For the love of…Willy Wonka
How would you like a chocolate-on-the-inside-inspired car? Well, if you're in Japan – you can have it like now.

This week, Mazda introduced its Verisa Brown Collection Special Edition, which comes with a chocolate-themed interior – and luxury features such as rain-sensing wipers. (Rain-sensing wipers – and here I was getting smug about getting new windshield wiper arms from Auto Parts Corner).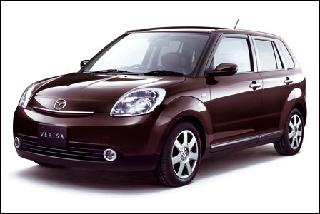 Inside Line reports:

"The Willy Wonka-esque interior is heavy on the chocolate theme, with dark brown leather seats, door trim, and glovebox lid. A "dress up" custom package includes brightly colored headlight moldings, an exhaust pipe finisher, and front foglamps with silver bezels. Other special equipment includes an automatic headlight system and water-repellent treatment for the front windshield, front door glass, and door mirrors."

The chocolate theme does not extend however, to the car's exterior, which comes in Radiant Ebony Mica, Velocity Red Mica, Moist Silver Metallic, and Snowflake White Pearl Mica. The base model starts at around $14,000. Sounds yummy? Sadly for us other chocolate lovers, the oh-so-right-for-me vehicle is produced only for the Japan market.